We are doing our 1st Give-Away and would love for all of our readers to join in on the fun with us! Our mommy partnered up with one of her friends, April of
April Accents
to do our give-away. So this post will be coming from mommy...
First of all, I wanted to say how happy I am to have April here doing a give-away for her newly opened boutique,
April Accents
. She is a friend of mine who also has her own
blog
AND has a son only 1 day older then the Riplets! So, we've been able to spend the past months keeping up with each other and comparing our kids through our blogs.
April's new boutique has some amazing, handmade hats and hair accessories for kids. I have already put in an order for Addison for a hat for her 1 Year pictures and I plan on ordering two more for the boys, once I figure out what colors I want them to be.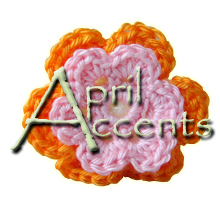 Here are a few questions I asked her about her product line and her new boutique.
1.April, I love your boutique and adore all your products. Tell us a little about yourself:
I am a 25 year old first time mom. My son is 10 months old and I have the priviledge of being a stay at home mom. My mother in law taught me how to crochet a few years back. I started off with a blanket that was quite crooked :) and then decided that a blanket was probably a bit ambitious for a first project. So I stuck with scarves until I my skill was more formed. Over the past few years, I have been enjoying making items and giving them away as gifts. Just recently, I have been encouraged to start selling my handmade products and so after much time and thought - I created April Accents.
2.What inspires you when you come up with a new design or product?
Currently, the products I sell are children's hats. I have always been obsessed with shoes for myself :), but when it came to my son - it was hats! I always put a hat on him when we left the house. Every store we went to - I needed to check if there was something new and creative. Then I thought to myself, why not just make a hat for him?

Each style I have on the site is named after the child that is modeling it. I love bright colors and using them to express personality in fun accessories for children. I just sit back with my yarn and hook and let my imagination and creativity work its magic.

3.I see your son, Jackson got his own hat named after him. Is that his favorite hat and does he keep them on his head? Mine are really good at pulling theirs off the second I put one on their head!
I named by first creation after my son, Jackson. His head has been my model for quite some time now. He is used to wearing hats due to mommy's obsession :).
I have found that if I place a hat with a long or wide brim on him such as a baseball cap, he doesn't tolerate it very well because his vision is obstructed. But with these crochet hats that stay snug on his head - after a few moments he completely forgets it's on his head.
When I put a new crochet hat on him, I make a big deal about how cute he looks in it - so the response I get is a huge goofy toothy grin.
4.Which item is your personal favorite and why?
I adore the Breanna style - the simple stitched cap with an accented flower. I just love to see little girls accessorize just like their mommies. There are so many color combinations to chose from, you can have one for every outfit!

5.I see that you will be eventually adding jewelry to your collection. Could you give the readers just a peak at some jewelry you've either been designing or some that you've made in the past? Just so we can all see what's to come?
Great idea! I frequently host give aways on my personal blog - Desires of the Heart. Here are two examples of the bracelets that I gave away. Items like these, and many more will soon be available for sale.
April Accents will be giving-away the Ella hat (12M-3T) to one lucky person.
Here is what it looks like:
Now to enter the give-away you need to go to April's boutique by either clicking on her button at the top of my blog or click here
April Accents
. Look through her store and then leave her a comment on which item is your favorite. That will be one entry. You can also FOLLOW my blog and leave me acomment on The Riplets blog saying you just became a "FOLLOWER". If you are already a FOLLOWER you can leave me a comment stating that you are already on my blog and that is your 2nd entry. Finally,a third way to enter is by grabbing an April Accent button and putting it on your blog. Leave April a comment letting her know you did that as well and your blog address. So there are up to three chances to win for each of you! You will have until this Friday at noon(Sept 4th) to enter. The drawing will be Friday afternoon and I will announce the winner here on my blog that evening. So don't forget to come and check back!
Are you still wanting more give-aways? Go to the End of Summer Blog Party at
Multiples and More
. They are having hourly give-aways all day Thursday and Friday this week. Also- check out Joanne's give-away on her blog,
NY Gal in Steerland
.
GOOD LUCK!